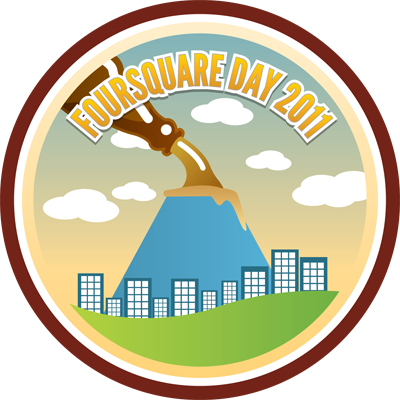 Name: Foursquare Day (2011)
Message: "Happy Foursquare Day! You obviously love Foursquare as much as we do since you're out celebrating and letting everyone know!"
foursquare day tahun ini selain disemarakkan dengan meetup dari pengguna foursquare di seluruh dunia dari berbagai komunitas juga ikut dirayakan oleh pengguna untappd dengan rilisnya badge terbaru dari untappd dalam rangka foursquare day 2011 selain badge "
4sqday 2011
" yang juga diterbitkan secara spesial oleh foursquare.
untappd beberapa waktu lalu menggunakan "
foursquare api"
terbaru dari foursquare yang memungkinkan pengguna untappd juga dapat melakukan check-in bersamaan atau share ke foursquare disamping share ke layanan sejenis gowalla.
untuk mendapatkan badge spesial "
foursquare day 2011
" dari untapp ini, pengguna perlu menyambung/ link up akun foursquare ke untappd dengan cara melakukan pengaturan di halaman
http://untappd.com/account
kemudian login juga ke akun foursquare sampai tersambung. untuk unlock badge ini cukup check-in menggunakan layanan untappd dengan menambahkan lokasi/ venue yang dishare ke foursquare pada tanggal 16.04.2011 atau hari sabtu saat foursquare day.
badge ini berlaku di seluruh dunia dan bagi yang pengen mengetahui peta untappd dalam rangka foursquare day dapat melihat di halaman
http://untappd.com/4sqday11
happy foursquare day.. "when the world is your venue!"
huzzahh!!